Visiting Us at Staffordshire County Show 2023
Visiting Us at Staffordshire County Show 2023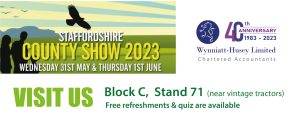 We are excited to share the news that Wynniatt-Husey Ltd is attending the Staffordshire County Show this week, Wednesday 31st May and Thursday 1st June.
We will be situated in Block C, Stand 71, which is near the vintage tractors, and the weather forecast is currently predicting some lovely weather for it.
There will be free refreshments available and we shall be hosting quizzes, with a chance for the winners to receive prizes, all proceeds will be going to charity.
We hope to see you there!🤗